OK Stupid provides Julie dating advice
The massively popular podcast, Julie Is Alone, invited me to help her become less alone. 
Should Julie Online Date?
Check out the episode as I dissect Julie's dating techniques and provide a point by point analysis of her OK Cupid profile.
Topic covered include:
Should I have photos of myself hugging myself?
What words should I avoid in my screen name?
When should I lie in my online dating profile?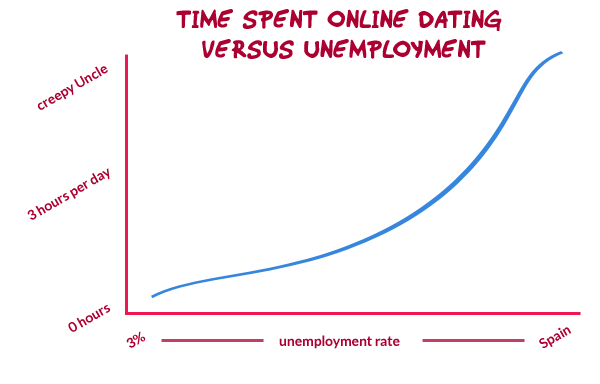 Time spent online dating versus unemployment rate
My math wizards have put down the crack pipe for a few moments and generated this graph. Using data from the Bureau of Labor Statistics and a phrenologic map of a stray cat I can now show the correlation between unemployment and time spent pursuing online dating.
Note: The math girls were back at the crack before the graph could be amended. Spain should be replaced with Estados Unidos since the US has a current underemployment rate topping 50%. USA USA USA USA